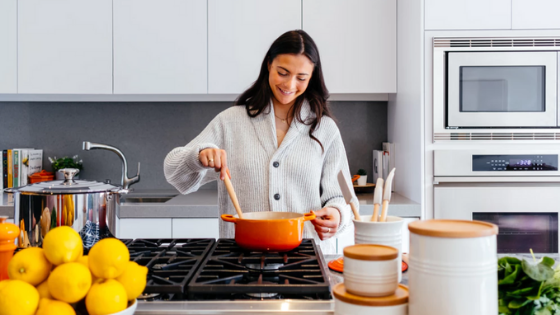 Many people you may know are trying new dieting plans, such as the keto diet. Check out these 3 keto-friendly dinner ideas that you can try for yourself!
Garlic Rosemary Pork Chops
Directions
Preheat oven to 375 degrees and season 4 chops with salt and pepper.
In a small bowl, mix together 1 tablespoon rosemary, 1 stick of butter, and 2 cloves of garlic.
Grab a medium, oven-safe skillet, add some olive oil, heat, and then add the pork chops.
Sear chops until golden brown, about 4 minutes on each side, then brush them with garlic butter.
Place pan in the oven and cook for 10-12 minutes until cooked all the way through.
Serve the dish with more garlic butter.
Keto Bacon Sushi
Directions
Preheat oven to 400 degrees, line a baking sheet with foil and fit it with a cooling rack.
Cut 6 bacon strips in half and cook them until slightly crisp, about 11 to 13 minutes.
Cut 1 avocado, 2 cucumbers, and 2 medium carrots into small pieces.
Once the bacon has cooled, spread some cream cheese on each slice, less than 1 ounce per slice.
Divide veggies equally on the bacon slices and add them on one end of each slice.
Roll up the veggies tightly, then garnish with sesame seeds before serving.
Garlicky Lemon Mahi-Mahi
Directions
Heat a large skillet over medium heat and melt 1 tablespoon of both olive oil and butter.
Add 4 (4-ounce) pieces of mahi-mahi to the pan, then season them with salt and pepper.
Cook the fish until golden brown, about 5 minutes on each side, before transferring to a plate.
Add another tablespoon of oil to the skillet, then cook 1 pound of asparagus about 2 to 4 minutes, and add seasonings to taste.
Next, you'll want to add 2 tablespoons of butter to the skillet, then add red pepper flakes and garlic and cook about 1 minute.
Mix in one sliced lemon, including its juice and zest, and parsley.
Remove from heat and add fish and asparagus back to the skillet, then spoon over the sauce.
Garnish with parsley and serve.
To find apartments in Denver, CO, that have spacious kitchens for your keto-cooking dreams, call The Apartments at Denver Place to schedule a tour today!