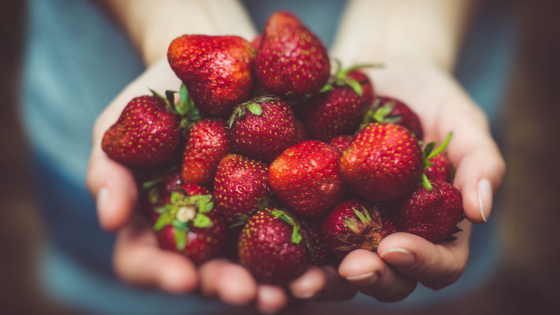 April marks the onset of peak season for juicy, beautiful red strawberries. We've found some delicious recipes that'll enable you to enjoy Mother Nature's bounties morning, noon, and night!
Put Them Into a Punch Bowl
Strawberry and watermelon punch with lime and tarragon provide the perfect way to enjoy the freshness of spring with a creative flair. This drink can easily be family-friendly or adults-only, and the recipe is great for those springtime picnics and potlucks!
Stock Up on Smoothie Ingredients
Strawberry smoothies start the day off right. After all, they say breakfast is the most important meal of the day. Add half a frozen banana to fortify the texture and provide your diet with an added bit of potassium. A little bit of milk supports your daily intake of calcium while the thickness of the smoothie keeps your belly full until it's time for your mid-morning snack!
Enliven a Lighthearted Lunch
Salads are a healthy way to keep the microwave-meal blues away, but not all lettuce is appetizing. If your salad doesn't have some sensational elements, you're likely to skip it in favor of the drive-thru soon enough. To avoid this midday-meal pitfall, make sure you're arming your lunch bag with a salad that stands out above the competition. This strawberry salad with poppy seed dressing serves as an awesome accompaniment to sandwiches, or you can add diced chicken to create an entree-sized dish.
Set It Up with Salmon
Salmon is an energy-providing food source that contains potassium, vitamin B12, and ample amounts of omega-3 fatty acids that are good for plenty of different parts of the body. Your brain, joints, and heart can all benefit from the beauty of salmon. When you top it with a flavorful garnish that's comprised of strawberries and rhubarb, your taste buds will thank you, too. To get the most out of this meal, serve it with a side of quinoa.
Are you looking for an apartment that's close to all the action in Colorado's capital city? Our team at The Apartments at Denver Place is ready to welcome you home. Fill your application out online today!