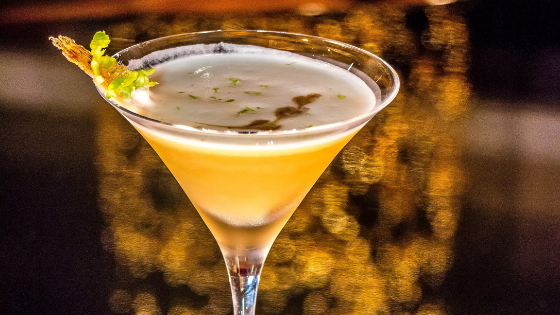 Pumpkins and apples are the quintessential flavors of fall, and they can also add an interesting seasonal flair to your favorite cocktails. Here are four fun drinks that use either apple or pumpkin (and in one case, both!) to create perfect cocktails for toasting in the beauty of autumn.
Pumpkin Martini
Ingredients:
2 ounces vanilla vodka
1.5-ounce pumpkin-flavored liqueur
Pinch of ground cinnamon
Pinch of ground nutmeg
Directions:
Add ice to a cocktail shaker.
Pour in the vodka and liqueurs.
Cover and shake until well chilled.
Strain into a chilled martini glass.
Garnish with the cinnamon and nutmeg and serve.
Apple Margarita
Ingredients:
1-ounce tequila
1-ounce apple liqueur
1-ounce apple juice
1/2 ounce sour mix
Apple slice for garnish
Cinnamon sugar (1 part ground cinnamon to 2 parts of white sugar)
Directions:
Moisten the rim of the glass with the apple liqueur.
Then, rim the margarita glass with the cinnamon sugar.
Combine the ice, tequila, apple liqueur, apple juice and sour mix in a blender.
Blend until smooth.
Pour the cocktail into the rimmed glass; garnish with the apple slice and serve.
Pumpkin & Apple Spice Cocktail
Ingredients:
2 cups pumpkin spice vodka
4 cups apple juice
Juice from 2 lemons
Cinnamon stick for garnish
Directions:
Mix the vodka, apple juice and the lemon juice in a pitcher.
Pour over ice to serve and garnish with a cinnamon stick. It can also be warmed up in a saucepan and served in a mug.
Pumpkin Pie Punch
Ingredients:
2-liter cream soda
1 bottle whipped vodka
1/2-gallon pumpkin ice cream
Directions:
Pour cream soda and vodka to a punch bowl.
Add scoops of ice cream to punch. The ice cream will create a foamy head on top of the punch.
Autumn is a season of change. The leaves are falling, and the weather is turning brisk. Are you ready to make a change as well? Perhaps, you've been thinking of finding a new place to live. If so, come check out our beautiful apartments in Denver, which boast mountain and city views. Our community is also conveniently located just steps away from Coors Field and great shopping, dining and entertainment options.