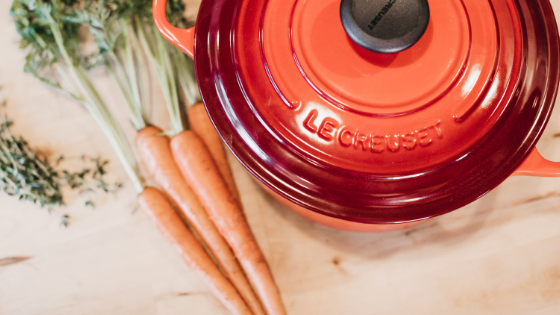 Fresh fruits and vegetables are an important part of everyone's diet. Luckily, Colorado boasts a wide range of in-season ingredients that can be easily found at farmers markets that are close to our stunning apartments in Denver. We've gathered mouth-watering recipes that use in-season produce that can help you spice up your weeknight dinner rotation.
Autumn Seasonal Fruits and Vegetables
Find a complete list of the in-season fruits and vegetables available in Colorado right now:
Apples

Beets

Cabbage

Carrots

Cucumbers

Eggplants

Grapes

Kale

Onions

Pears

Peppers

Potatoes

Pumpkins

Raspberries

Snap beans

Squash

Sweet corn

Tomatoes

Watermelons
You can enjoy many of these ingredients on their own. You can also easily incorporate them into your favorite weeknight meals, or try something new altogether!
Creamy Pumpkin Chicken Soup
Slow cooker meals are a lifesaver, especially with a busy week of work, school, social activities and more. Thanks to an incredibly short prep time, you can easily start this recipe before you leave for the day and come home to a tasty, home-cooked meal. You can use a can of pumpkin puree or puree your own. Simply combine the main ingredients (pumpkin, chicken, corn, peppers, garlic, and potatoes) with spices, cheese and broth before placing the slow cooker on low.
Steak, Peppers and Pear Salad
A salad can be a refreshing midweek meal. You can follow this recipe to a T, or simply spice it up with peppers, onions and even a sprinkle of watermelon if you are feeling experimental. Combine pan-seared flank steak with your desired fruits and vegetables, and enjoy.
Herb-Crusted Fish With Ratatouille
Fish is a healthy source of omega fatty acids, and this recipe with ratatouille on the side is an incredibly healthy meal you should make an autumn staple in your weekly dinners. Basil, eggplant, squash and tomato ratatouille is the perfect complement to flaky, white fish.
Apartments That Make You Feel At Home
Our Denver apartments provide you with the best view of downtown. Our modern apartment community offers the small things you need to ease your daily routine, such as free Wi-Fi and morning coffee. Contact our exceptional staff to see what floor plans are available today!